The rise in popularity of the tiny home movement has inspired many to embrace minimalism and sustainable living. Unfortunately, it's also paved the way for opportunistic, morally devoid, scammers hoping to capitalize and victimize those looking to join the tiny home movement. As you embark on your journey to own a tiny home, it's crucial to be informed and vigilant. Here's a detailed guide on how to spot and avoid tiny home scams.
Too Good To Be True Price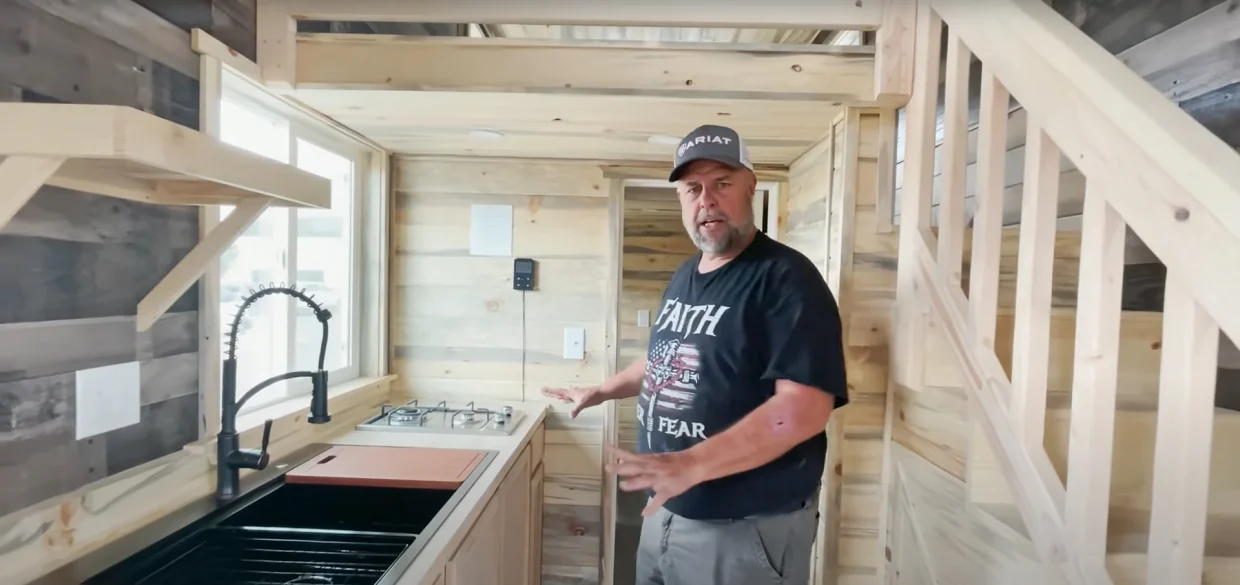 The old adage, "If it seems to good to be true, it probably is," holds true today as much as it ever has. One of the most alluring scams is the promise of a fully-built, luxurious tiny home at an unbelievably low price. The above picture is a "man" by the name of Matt Sowash. He is a total scammer who touted himself as a Christian selling homes for cheap. Remember, building a quality tiny home requires quality materials (a trailer alone is $10k) and skilled labor. Be wary of "builders" selling homes for unbelievable prices.
Red Flag: A price that's significantly lower than the market rate without a credible reason, like liquidation or known, disclosed, issues with the home.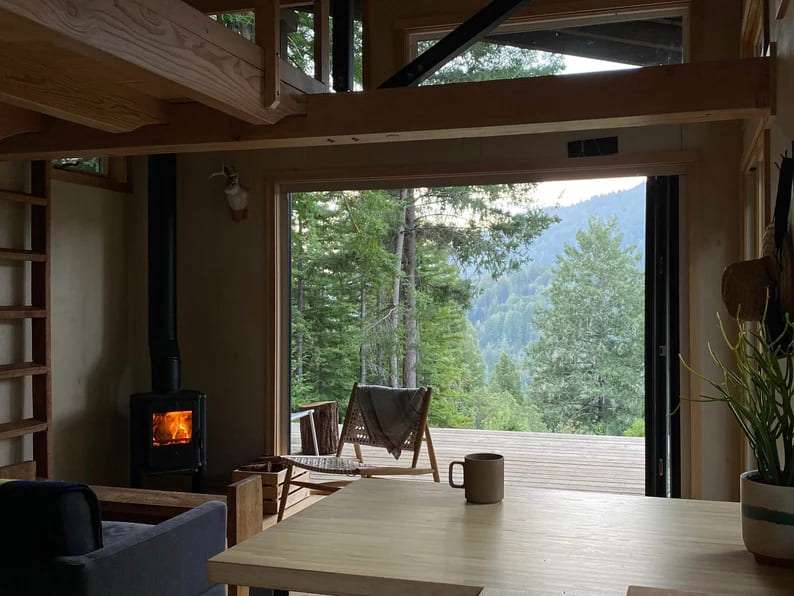 The Invisible Build
Full disclaimer, the above home is not a tiny home, nor is it a Frontier Home. But, as referenced above, scammers offer showcase beautiful tiny homes on their websites, social media, and even advertising sites that were taken from legitimate builders.
We had someone steal our Felicity Model and post an advertisement selling it for $70k! How do they profit, you ask? Well, they ask for a delivery fee, a downpayment, or even full price and then they either deliver a sub-par product or, worse, nothing at all.
Red Flag: Not being allowed to visit the builder's workshop or see homes in progress.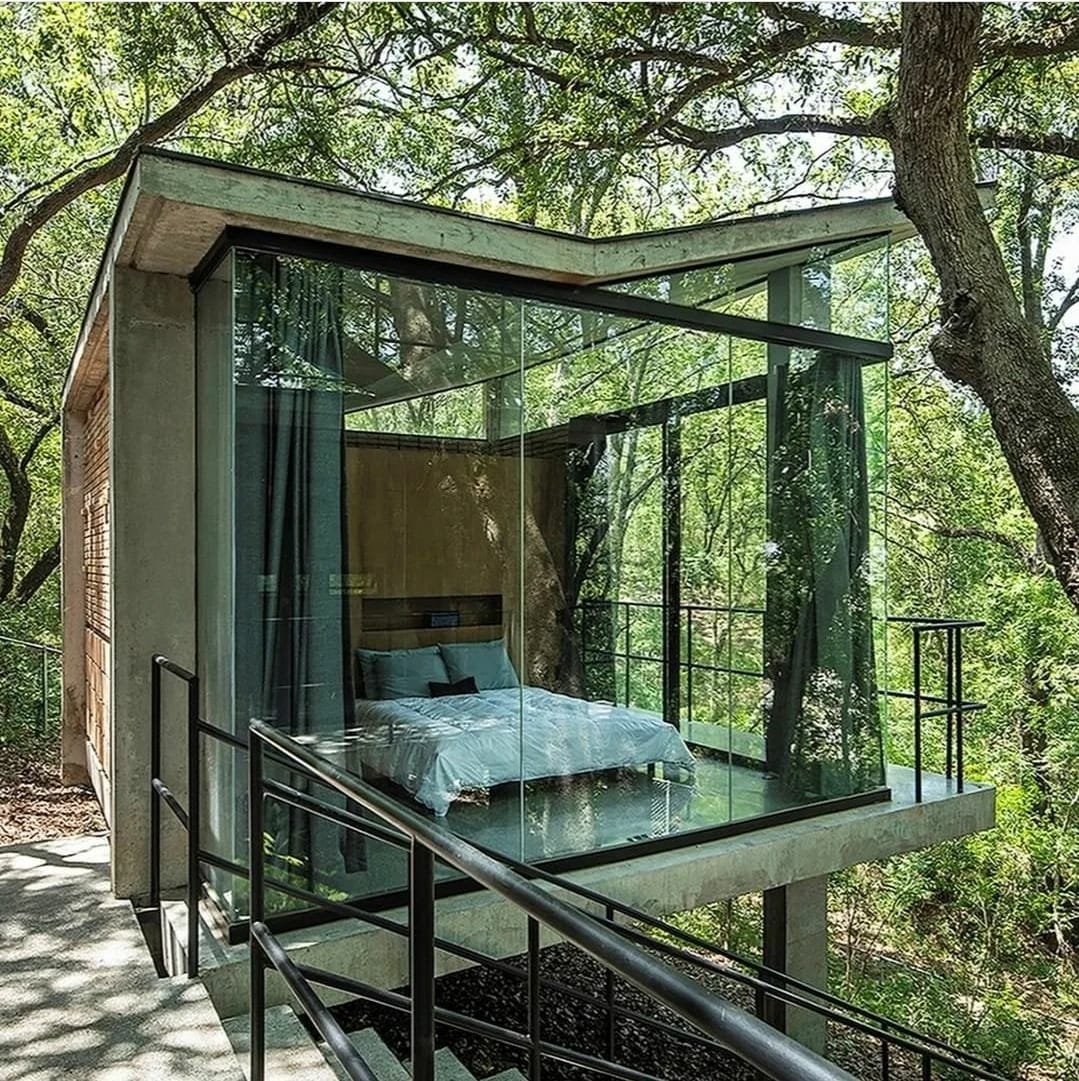 Stolen Photos
One of the biggest red flags that people should watch out for to protect themselves from tiny home scams is to check the images being used, as it may very well be a fraudulent schemes. These schemes come in different forms, such as giveaways or too good to be true prices.
Often a reverse image search will uncover that the attractive images of the tiny house may in fact be stolen from a legitimate tiny house company.
Red Flag: Beware of giveaways or free tiny home contests, they are inevitably scams.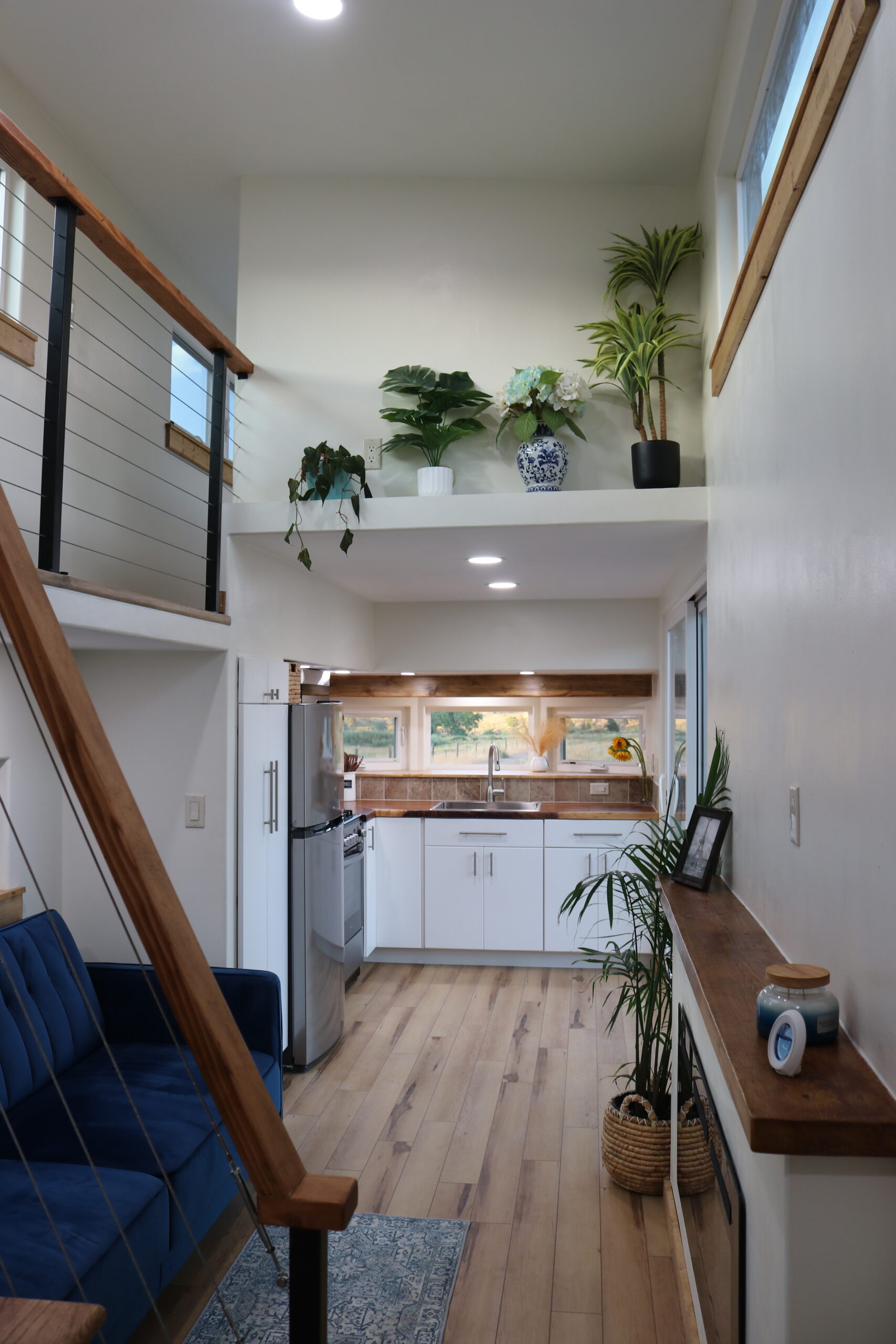 Upfront Full Payment
A common scam involves builders asking for full payment upfront, only to disappear once they have your money. Never ever send money to a builder, or anyone for that matter, without a contract for a product, a physical address and, at the very least, a virtual tour.
Also know that the vast majority of legit builders, require payment in installments. Our contract states 50% upfront, 25% at the start of building, and 25% at completion.
Red Flag: Any builder who insists on 100% payment before beginning the build.
Toured a Frontier Tiny Home with my partner, and wow! Stylish yet super affordable—exactly what we're looking for as a young couple saving up. Every space felt well-utilized and the design was spot on. Frontier's got our vote! – Jenni Torres
Lack of References
Reputable builders have past customers who can vouch for their work. One of the most straightforward and effective ways to safeguard against potential scams is to ensure that a builder can provide verifiable references. Authentic references offer a candid glimpse into past projects, providing a testament to the builder's reliability, quality of work, and professional conduct. Before committing time, trust, or money, always request and thoroughly check references to ensure your builder is genuine and has a track record of satisfied clients.
Red Flag: A builder unable or unwilling to provide verifiable references.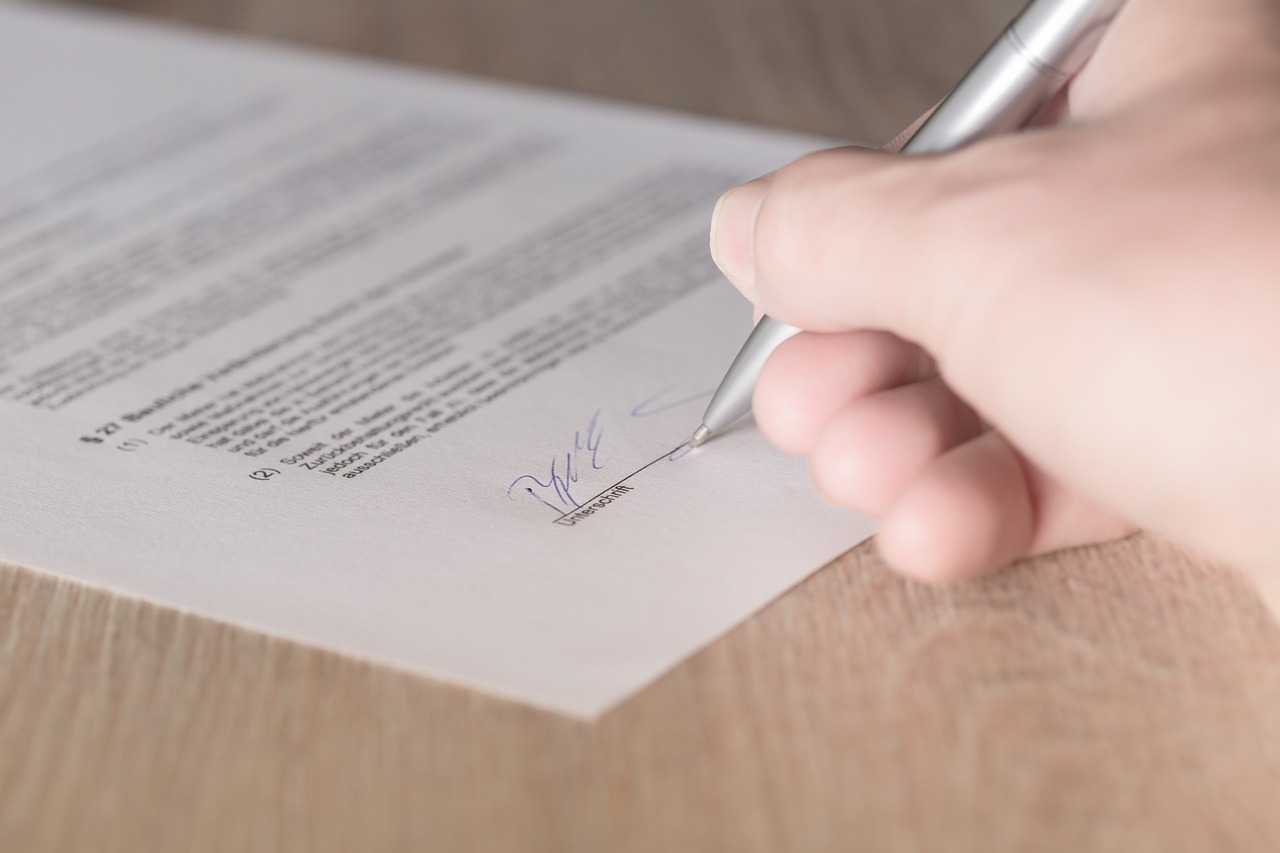 Absence of a Contract
The absence of a contract when engaging with a builder or any professional service can be a significant red flag. A contract isn't just a piece of paper; it's a legally binding document that outlines the responsibilities, timelines, costs, and expectations of both parties involved. Without it, you're venturing into a realm of uncertainty. Should any disputes or misunderstandings arise, having no contract can leave you vulnerable and without a clear course of action or recourse. Always insist on a detailed contract, and consider it a foundation for transparency, trust, and mutual understanding in any professional engagement.
Red Flag: A builder who avoids drafting a formal contract or provides a vague one.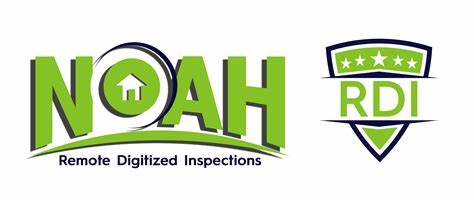 No Licensing or Insurance
A builder's lack of licensing or insurance isn't merely an oversight; it's a significant concern for potential clients. Licensing is a testament to a builder's qualifications and adherence to industry standards, ensuring they have met certain criteria and are recognized by relevant authorities. Meanwhile, insurance acts as a safeguard, protecting both the client and the builder from unforeseen incidents, be it damages or injuries.
Engaging with a builder without these essentials places you in a precarious position. It not only raises doubts about their professionalism but also means you might be left without any recourse in case of mistakes or mishaps. It's imperative to verify a builder's licensing and insurance status before embarking on any project.
Red Flag: A builder who cannot provide proof of licensing or insurance.
High Pressure Sales Tactics
High-pressure sales tactics are not just an aggressive sales approach but often a red flag when dealing with builders or any service providers. These tactics, which include pushing for quick decisions, offering "once-in-a-lifetime" deals, or playing on a client's fears of missing out, can be indicative of a lack of genuine customer interest or even desperation on the part of the seller.
A reputable builder understands the significance of a home project and would prioritize the client's comfort, ensuring they have all the information needed to make an informed decision. Feeling rushed or pressured is a sign that it might be time to reconsider and evaluate whether the service provider has your best interests at heart. Always prioritize businesses that give you space, clarity, and respect your decision-making process.
Red Flag: Builders who pressurize you with "limited-time offers" or "once-in-a-lifetime" deals.
Inconsistent Communication
Inconsistent communication, especially when embarking on something as significant as building a tiny home, is often a sign of deeper issues. When a builder doesn't maintain regular contact, responds erratically, or frequently changes information, it can signify a lack of organization, commitment, or even transparency. A project as vital as constructing a home requires trust, and consistent communication is foundational to that trust. It ensures both parties are on the same page, avoids misunderstandings, and helps anticipate challenges.
If you find yourself constantly chasing updates, or receiving contradictory information, it's wise to reconsider if this is the right partnership for you. Effective and reliable communication is not just a courtesy; it's a necessity for a successful outcome.
Red Flag: Slow or inconsistent communication after they've received an initial deposit.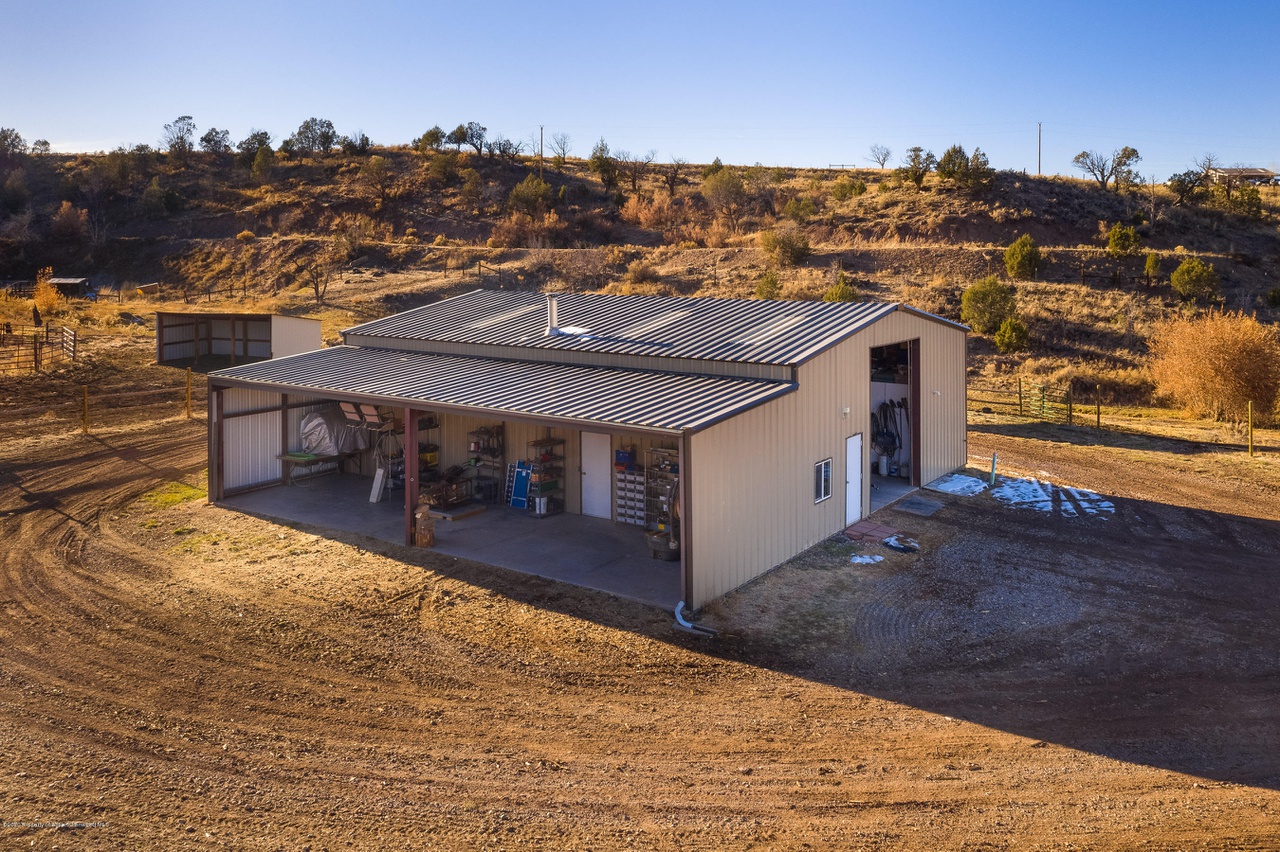 No Physical Address
The absence of a physical address for a builder or any significant service provider is a cautionary signal that potential clients should not overlook. A physical address, beyond being a location, represents stability, accountability, and a tangible commitment to a business's operations and its clients. Without a brick-and-mortar location, it becomes challenging to verify the legitimacy of the business, hold them accountable for any agreements, or even establish their standing in the local community.
Furthermore, it might also raise concerns about their ability to manage logistics effectively, secure necessary materials, or address any face-to-face concerns that arise. Before engaging in any significant project, it's essential to ensure that your chosen provider has a verifiable physical location, underscoring their authenticity and commitment to their work.
Red Flag: Absence of a brick-and-mortar office or workshop.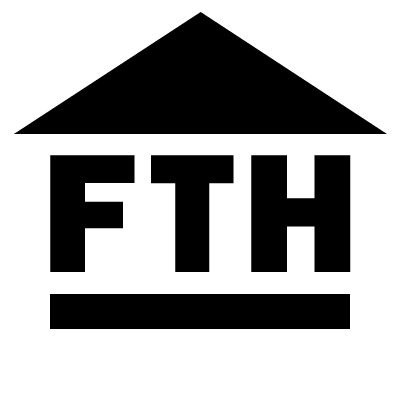 Copycat Branding
Copycat branding, where a business intentionally mimics the name, logo, or general aesthetic of a well-established brand, is a deceptive tactic that can mislead consumers and tarnish industries. In fields like home building or renovation, where trust plays a pivotal role, encountering a company with a brand eerily similar to a reputable one should raise immediate concerns. Such mimicry is not just an attempt to ride on the coattails of a successful brand's reputation; it's a strategy to mislead customers into thinking they're dealing with a trusted entity.
For the consumer, this could mean subpar work, loss of investment, or worse. Always research a company thoroughly, checking for genuine reviews, and directly communicating with them if any branding elements seem suspiciously familiar. Ensuring authenticity protects not only your investment but also upholds the integrity of genuine brands in the industry.
Red Flag: Logos, names, or websites that seem to imitate known, reputable brands.
Tips to Protect Yourself
Research
One of the most fundamental steps in safeguarding oneself against potential tiny home scams is thorough research. While online reviews and credentials can offer valuable insights, there's no substitute for direct conversations. Schedule face-to-face meetings, ask pointed questions, and observe their responsiveness. Engaging in open dialogue allows you to gauge their passion, commitment, and the core values driving their business. Listen to their vision, understand their approach to challenges, and get a feel for their dedication to craft and client.
This personal touch in research not only uncovers the essence of their company but also sets the foundation for a transparent and collaborative relationship. A well-researched decision not only ensures you're working with a reputable entity but also sets the tone for a more seamless and transparent collaboration.
Visit in Person
One of the most telling ways to assess a builder, and avoid tiny home scams is by visiting them in person. A visit isn't just about meeting the team or shaking hands; it's about witnessing firsthand the quality of their work, understanding their processes, and observing the professionalism of their operations. Walking through their ongoing projects or completed homes can give you an authentic feel for their standards and attention to detail.
Moreover, face-to-face interactions provide a better understanding of their communication style and responsiveness. Before making any significant decisions, a personal visit can be the difference between confidence in your choice and lingering doubts.
Secure Payment Methods
In any transaction, especially ones involving significant amounts of money, like the purchase of a tiny home, the method of payment plays a pivotal role in ensuring your financial safety. Always opt for secure payment methods, such as bank transfers, credit card payments, or checks, as they leave a traceable record and often come with built-in protections against fraud.
Avoid cash transactions or wire transfers to unfamiliar accounts, as they lack the same level of traceability and accountability. Before making any payments, also ensure you receive a detailed invoice or bill from the builder, and always be wary of requests for large upfront sums without a clear justification. By being vigilant in your payment practices, you can greatly reduce the risk of financial mishaps or fraud.
Consult a Lawyer
While hesitate to advise the hiring of a lawyer, as they are so expensive, doing so, before finalizing any contractual agreements with a builder can be a prudent step that could offer additional protection. An experienced attorney can meticulously review contracts, ensuring that terms are clear, fair, and in your best interest. They can identify potential pitfalls, ambiguous clauses, or any terms that might place undue liability on you.
Beyond contract review, lawyers can provide guidance on property laws, zoning regulations, and permit requirements. Their expertise can help you navigate the complex legal landscape of construction and real estate, ensuring that you're not only protected legally but also making informed decisions every step of the way. Before you sign on the dotted line, having legal counsel can make all the difference in ensuring a smooth and secure building experience.
Trust Your Gut
While research, references, and legal advice are all great resources, never underestimate the power of your intuition. Sometimes, even when everything seems in order on paper, something might feel off. It could be the way a builder responds to questions, their demeanor during discussions, or just a general feeling of unease. Your gut instinct is a culmination of countless subtle cues and past experiences, serving as an internal alarm system. If something feels wrong, take a step back, reevaluate, and seek additional insights or opinions. Remember, building or purchasing a tiny home is a significant endeavor, and you should feel confident and comfortable with every aspect of the process. Always trust your gut; it's one of the most potent tools in your decision-making arsenal.
Conclusion: Navigating the Landscape of Tiny Home Scams with Frontier Tiny Homes by Your Side
In the rapidly growing world of tiny homes, discerning genuine builders from tiny home scams is more important than ever. That's where our commitment at Frontier Tiny Homes truly shines. We aren't just builders; we're a family-owned and operated business that deeply understands the essence of compact living. Our personal journey of living in an RV for eight straight years with our entire family has ingrained in us the values of space, comfort, and adaptability. This firsthand experience shapes every tiny home we craft. Our ethos goes beyond just constructing homes; we are passionate about making dreams come true. We will bend over backward to ensure you feel at ease, answering every query and addressing every concern. In a world where trust is paramount, let our family's legacy at Frontier Tiny Homes be your guiding star, ensuring your tiny home journey is authentic, fulfilling and filled with joy.